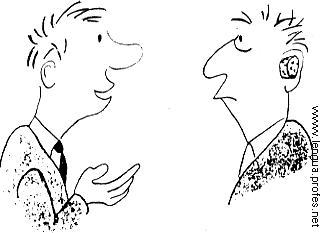 In this situation, Mr. Tass saw a classmate of him trying to copy his work in an exam. He's going to ask for advice to one of his best friends, Mr. Grog. Mr. Tass is the cousin of Mr. Tess, and Mr. Grog is the best friend of Mr. Greg. Don't you know who these people are? Look at the Oxford English in Context book for Bachillerato, page 61, exercise 7, for more information. Even though it's a bit long, try to enjoy!
Mr. Tass: Hey Grog! I've got a big problem. Can you give me some advice?
Mr. Grog: I'm quite busy now…
Mr. Tass: Please…
Mr. Grog: O.K. Let's hear it.
Mr. Tass: Thanks a lot…! Well, last day, while I was doing an exam at Mrs. Lobster class, I realized Grig was copying from my exam!
Mr. Grog: Who's Grig? By the way, what a strange name!
Mr. Tass: Yes, it means young eel or something like that…
Mr. Grog: What???
Mr. Tass: What? Oh, forget what I said. Grig's just that lively boy who's the shortest person of our class.
Mr. Grog: O.K. And what happens with him?
Mr. Tass: He copied from my exam!!
Mr. Grog: Ah! That's fine. I mean, it's not fine, it's just that I've already unders..
Mr. Tass: Yes, yes, I know. But, please, give me a piece of advice.
Mr. Grog: Well, what I recommend to you is to forget this. Copying is a very common activity and they even consider it's justified. You can also not to sit too close to him.
Mr. Tass: But we can't change our place by other one, you should know that.
Mr. Grog: Hey, who's supposed to give a piece of advice here?
Mr. Tass: That 'should' wasn't…
Mr. Grog (laughing): Yes, yes, I know what you meant... (He becomes serious) Well, the problem is clear. I think you should tell him you didn't like that at all, because you're making a huge effort to pass your exams.
Mr. Tass: Then, he'll say "But, why don't you like it? Just let me to copy, I'm not hurting you!"
Mr. Grog: Yes, that's a common answer too. In that case, if I were you I'd try to explain better your reasons. If he doesn't understand you, you had better say to him you'll tell the teacher he copies your work. When he realizes he's risking to get a zero, maybe he'll reconsider his ideas.
Mr. Tass: Oh, thanks a lot again! See you!
Mr. Grog: Bye!